Keynote Speakers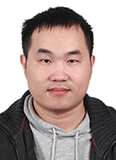 Prof. Kun Liang

Ningbo Institute of Materials Technology and Engineering, CAS
Professor Liang obtained his Ph.D degree from University of Electronic Science and Technology of China in 2015. After that, he joined Prof. Yang Yang's group as a Postdoctoral Associate and Preeminent Postdoctoral Fellow in Nanoscience Technology Center at University of Central Florida. In 2018, he joined Prof. Michael Naguib's group as a Postdoctoral Fellow at Tulane University. On August 2021, Ningbo Institute of Materials Technology and Engineering, Chinese Acadeny of Scienece as a professor. Prof. Liang's research focuses on developing new two-dimensional nanomaterials with precisely controlled chemical composition and morphology and exploration of novel applications in energy generation and storage and flexible electronics. Prof. Liang pulished 23 papers as a first author in high impact journals (e.g. Advanced Energy Materials, Advanced Functional Materials, ACS Energy Letters, Nano Energy). He also filed 4 US patents and one was issued. He is actively involved in professional activities, especially within the energy generation and storage community. For example, as a journal peer-reviewer, he reviewed over 130 manuscripts for 20 different journals, including high impact journals like Advanced Materials and Advanced Energy Materials.
Prof. Dr. Mohammed J K Bashir, PhD
Environmental Engineering Department
Faculty of Engineering and Green Technology (FEGT)
Universiti Tunku Abdul Rahman, Jalan Universiti, MALAYSIA
Research Area:
Environmental Engineering & Management, Pollution Control and remediation, Waste Management, Landfilling, Waste to Energy, Wastewater treatment, Biomass conversion, Adsorption, Electrooxidation, Coagulation.